Riverbed SteelCentral AppResponse 1200

Real-time application performance monitoring based on actual end-user experience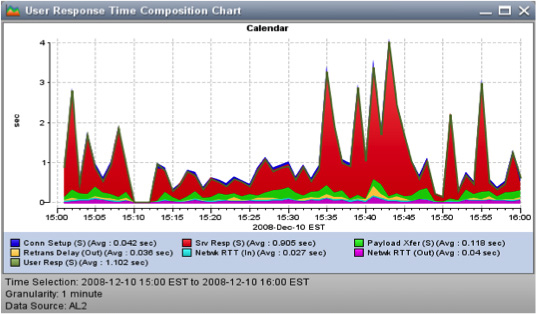 Riverbed AppResponse automatically calculates a breakdown of user response time into network and server
delay so you can quickly determine where the problem is occurring.
Formerly Known As: OPNET AppResponse
Pricing and product availability subject to change without notice.
Riverbed Products
SteelCentral AppResponse Licenses
SteelCentral AppResponse 1200 licenses
#LIC-ARX1200
Our Price: $1,045.00
SteelCentral AppResponse Spare FRU's
ARX1200/2200, Ultrastar A7K2000, 3.5 in. 1TB, 3G
#HDD-016
Our Price: $2,195.00
ARX1200/2200, Memory 2x2G DDR3 (Spare)
#MEM-013
Our Price: $595.00
ARX1200, 2200, Non-Returned Disk charge (per system)
#NRD-HDD-009
Our Price: $1,995.00
ARX1200,2200, Rack kits, ARX 1U (Spare)
#RMK-015
Our Price: $195.00
SteelCentral AppResponse 1200 Silver Support
#MNT-SLV-ARX1200
Our Price: $1,524.00
SteelCentral AppResponse Gold, Gold Plus, and Platinum supports are available, please
contact us!
SteelCentral AppResponse Disk/Memory Supports
Disk/Memory Support, ARX1200/2200
#MNT-EHR-008
Our Price: $995.00