Riverbed SteelApp Traffic Manager

The industry's leading virtual application delivery controller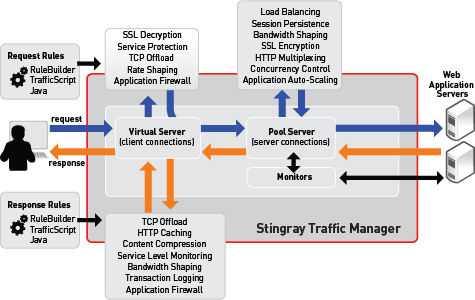 Formerly Known As: Stingray Traffic Manager Software
Sorry, this product is no longer available, please contact us for a replacement.
Click here to jump to more pricing!
Overview:
What is a Traffic Manager or Application Delivery Controller (ADC)?
ADCs are deployed in data centers to optimize application performance, security and resource efficiency by offloading servers, providing deep payload inspection, making best use of complex protocols. Originally deployed for externally-facing Web applications, now used to deliver services for many types of business applications and protocols. Recent developments in software-based and virtual ADC platforms provide more deployment flexibility, especially in cloud services and virtual environments.
With SteelApp Application Delivery you can realise the benefits of virtualization
Give your end users a highly available, high-performance experience. This full-featured virtual Layer 7 ADC (application delivery controller) does far more than balance workloads to your enterprise websites and cloud services. It also controls and optimizes end-user services by inspecting, transforming, prioritizing, and routing application traffic.
Make applications more reliable with local and global load balancing
Create, manage, and deliver Layer 7 services more quickly and at lower cost
Control and optimize end-user services by differentiating and prioritizing application traffic
Improve user experience while reducing costs and downtime with SteelApp
SteelApp's software form factor provides far greater flexibility, enabling network administrators to accelerate, optimize, and secure business transactions in physical, virtual, and cloud environments. SteelApp application delivery controller enables organizations to accelerate services, increase capacity and reduce costs by offloading performance-limiting tasks including SSL and compression. The software also enables administrators to cache commonly requested content and manage traffic delivery to applications to increase performance.
Reduce the costs associated with supporting applications.
Deploy innovative architectures that provide a competitive advantage.
Reducing the amount of time it takes to deploy applications and realize application ROI.
Improve employee and customer satisfaction with higher-performing, more reliable applications.
Pay as you grow pricing minimizes optimizes CAPEX cost due to overprovisioning
How it Works: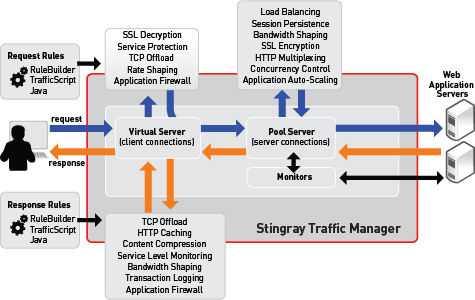 SteelApp Traffic Manager capabilities can be enhanced using TrafficScript or Java extensions.
SteelApp Traffic Manager inspects and processes application traffic, with full payload inspection and streaming. It applies a range of optimization techniques to ensure that incoming requests are presented in the most appropriate manner to the web and application servers. Responses from the application can be compressed, cached, and returned to the client at optimum speed, while freeing up resources on the server. Built-in TrafficScript language allows for full control over how individual requests are optimized, routed, and transformed. Traffic management rules may also be created using Java Extensions.
SteelApp Traffic Manager includes a web-based administration interface to display powerful real-time analysis and history for all traffic across Traffic Manager clusters. Alternatively, SteelApp Traffic Manager integrates into remote management and event monitoring frameworks using Simple Object Access Protocol (SOAP) APIs and Simple Network Management Protocol (SNMP), RESTful API. SteelApp's RESTful Control API allows HTTP clients to access and modify SteelApp cluster configuration data.  For example a program using standard HTTP methods can create or modify virtual servers and pools, or work with other SteelApp configuration objects. The RESTful Control API can be used by any programming language and application environment that supports HTTP.
Find out what makes SteelApp Traffic Manager different from other load balancing products.
Technical Specifications:
Model
 Standard Edition
  Enterprise Edition 
Numeric Model
1000 Series
2000 Series
4000 Series
Configurations
L
M
H
H1
L
M
L
M
H
VH
Profile
  Software or Virtual Appliance  
Throughput
10 Mbps
200 Mbps
1 Gbps
5 Gbps
1 Gbps
2 Gbps
5 Gbps
10 Gbps
20 Gbps
Unlimited
SSL Transactions per second
Unlimited
Functionality
Core
Advanced
Advanced
Performance achieved may be lower due to environmental conditions and capacity of customer-supplied hardware or virtual environments. 'Unlimited' means that no performance limit is applied
SteelApp Web Accelerator Proxy (SPX) Configurations
Model
1000 Series
2000 Series
4000 Series
Configurations
L
M
H
L
M
L
M
H
Profile
 Software or Virtual Appliance 
Throughput
10 Mbps
200 Mbps
1 Gbps
1 Gbps
2 Gbps
5 Gbps
10 Gbps
20 Gbps
SSL Transactions per second
None
None
None
Functionality
SPX Core
SPX Core
SPX Core
SteelApp Functionality Matrix
| Functionality | Standard Edition | Enterprise Edition | SPX 1000, 2000, 4000 Models |
| --- | --- | --- | --- |
| Availability | 1000 Model | 2000, 4000 Models | 1000, 2000, 4000 Models |
| Load Balancing | Y | Y | - |
| Application Acceleration | Y | Y | Y |
| SSL offload | Y | Y | N |
| Compression offload | Y | Y | Y |
| Web Content Caching | Y | Y | Y |
| TrafficScript and RuleBuilder | Y | Y | Y |
| IPv6 support | Y | Y | Y |
| Application DoS Protection | Y | Y | Y |
| Connection Analytics | Y | Y | Y |
| Bandwidth Management | Y | Y | |
| Transaction Rate Shaping | Y | Y | |
| Service Level Monitoring | Y | Y | |
| Application Auto-Scaling | Y | Y | |
| Global Load Balancing | - | Y | |
| Secure Access | - | Y | |
| Route Health Injection | - | Y | |
System Requirements: SteelApp Traffic Manager Software And Virtual Appliances
System Requirements: SteelApp Traffic Manager software and virtual appliances
Software environment: Traffic Manager
Linux x86_64: Kernel 2.6.8 - 3.13 (2.6.22+ for IPv6), glibc 2.5+; Solaris 10 (x86_64)
Software environment: Web Accelerator Proxy and
Linux 2.6.22 or later (x86_64)
Web Accelerator Add-On option  Virtual environment: Virtual Appliance 
 VMware vSphere 5.0, 5.1, 5.5; XenServer 5.6, 6.0, 6.1, 6.2; OracleVM for x86 2.1, 2.2, 3.2; Microsoft Hyper-V
Server 2012 & 2012 R2, Microsoft Hyper-V under Windows Server 2012 & 2012 R2; QEMU/KVM
(RHEL/CentOS 6.4, Ubuntu 14.04)
Recommended hardware: CPU
Intel Xeon / AMD Opteron
Recommended hardware: Minimum memory
2 GB
Recommended hardware: Minimum disk space
10 GB
Recommendations apply to small-to-medium size deployment with simple configuration. Additional hardware capacity will increase performance capacity, caching capacity and will support complex traffic management configurations. Additional hardware capacity is recommended when using the SteelApp Web Application Firewall option or the SteelApp Web Accelerator. Licensed throughput and transaction limits are not guarantees of performance on any particular hardware. SteelApp Traffic Manager software may be installed on a supported operating system running on any supported physical server, or within supported Linux or Solaris guests on a wide range of supported virtualization platforms.
Pricing and product availability subject to change without notice.