Riverbed Accelerating the Delivery of Microsoft Office 365

Delivering the best user experience across networks, locations and devices
With SteelHead Cloud Accelerator, you are now able to extend the same application acceleration and user and business benefits that you've experienced with your enterprise applications to cloud services/SaaS applications such as Office 365.
What you get from Riverbed – and only Riverbed – ­in an integrated, purpose built, end-to-end solution is deep application understanding, accelerated application delivery, and global scale wherever the apps or users reside.
Application Acceleration Everywhere

Branch office, data center, and to/from the service provider cloud
Up to 33x faster with bandwidth reduction up to 97%

WAN and Internet optimization combined for maximizing use of all available networks

MPLS, Internet, and hybrid

The fastest path from the end user to the application
Pay-as-you-grow economics and costs
Easy to consume service

Per user subscription service

Easy to deploy and manage end-to-end solution

Software add-on activated with license
Auto-deployment of a virtualized SteelHead instance at the point of presence closest to the SaaS service provider
No rip-and-replace of existing SteelHead appliance deployments.
No configuration changes required either on the client or provider side

Scale on demand based on your user needs
Riverbed's award-winning technologies - deduplication, application and transport optimization, and compression capabilities
Riverbed SteelHead™ SaaS leverages an internet optimization platform, the Akamai Intelligent Platform, for optimizing application delivery across the open Internet.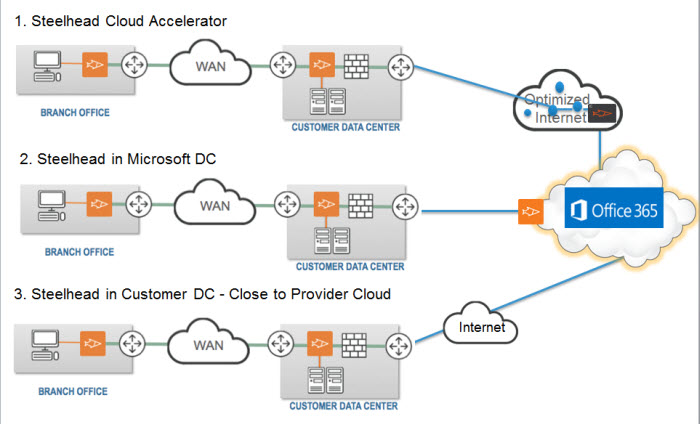 Figure 1: Three Deployment Scenarios for Office 365 with SteelHead™ SaaS and SteelHead appliances
Features
Combined WAN and Internet optimization

Enables the seamless optimization of application traffic across both the WAN and the Internet, all the way to the front door of the application service provider
Installs Cloud SteelHead Accelerator within the Akamai Intelligent Platform

A simple checkbox for deployment

Deploys instantly and transparently with a simple license activation
Starts optimization for SaaS applications with a simple check of a box — no need for remote deployment or management

Riverbed Data, Transport and Application Streamlining

Data Deduplication: Reduces bandwidth utilization by up to 99%
Transport Streamlining:  Reduces the number of TCP packets required to transfer databy 65 to 98% and enables the acceleration of SSL-encrypted traffic
Application Streamlining: Reduces application protocol chattiness up to 98%
Time required:  Seconds to download a 20.8MB file from SharePoint Online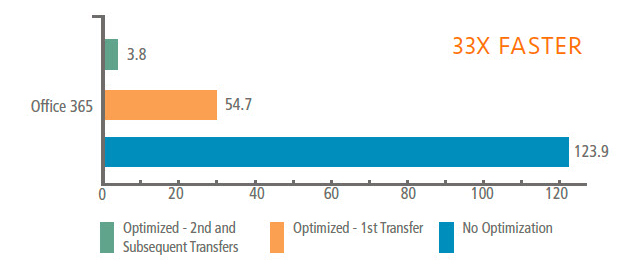 Bandwidth: MBs used to download a 20.8MB file from SharePoint Online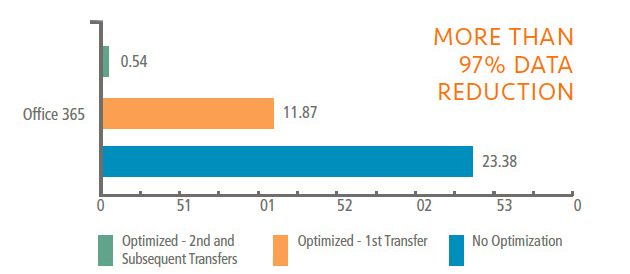 Products
SteelHead for WAN Optimization
Accelerate file-sharing, email, and document repository application traffic up to 50x on average while reducing bandwidth consumption up to 90% or more with SteelHead WAN optimization. With built-in quality-of-service (QoS), SteelHead allows businesses to prioritize mission-critical applications. With SteelHead solutions, the world's largest businesses and organizations can improve the user application experience and increase productivity with accelerated delivery of business-critical, workload-dominant applications such as Office 365.
Cloud Accelerator (SteelHead™ SaaS)
Accelerate Office 365 with cloud-based, end-to-end deployment options such as SteelHead™ SaaS for WAN and internet optimization. SteelHead™ SaaS accelerates Office 365 application delivery up to 33x faster with bandwidth reduction up to 97% over hybrid networks no matter where the apps and information live – branch offices, data centers, and in the cloud, as well as helps you move those same apps and information to the Microsoft cloud. With SteelHead Cloud Accelerator, the customer consumes Riverbed application acceleration as a per user subscription service in the same way the customer is consuming Office 365 as a service.
The Riverbed SteelHead Product Family - Steelhead, Virtual Steelhead, SteelHead Mobile, Cloud Steelhead, SteelHead Cloud Accelerator, Interceptor, and the Central and Mobile Management Consoles  - work at unison for an end-to-end optimization and management solution that accelerates delivery of applications and data while enhancing IT control and visibility.
The Steelhead Family tightly integrates with the other components of the Riverbed Performance platform, such as Granite (storage delivery), NPM/APM (network and application performance management), Stingray (application delivery), and Whitewater (cloud  storage) for a comprehensive approach to application delivery and availability.
Services
Migrate To Microsoft Office 365 With Speed And Confidence
Riverbed Professional Services offers a portfolio of services that support enterprise customers through key phases of an Office 365 deployment.
Delivered through best-in-class Riverbed products and proven methodologies, Riverbed Consulting Solutions for Office 365 are four complementary solutions that predict how applications will perform before migration, optimize mailbox migration time, and find and fix network and application issues during and after migration.
Key service benefits:
Dramatically reduce risks, timelines and bandwidth usage associated with Office 365 migrations
Make fact-based decisions during migration planning to avoid costly mistakes
Leverage pre-migration predictive analysis to accurately size and prepare for migration and to ensure service level agreements (SLAs) are maintained after migration
Utilize best-in-class Riverbed products, expertly installed on your network or in the cloud, to analyze, optimize and accelerate migration
Reduce manual intervention during and after migration by automating monitoring, tracking, and troubleshooting processes